Data prints
Vaccine passport or not, in sight, I find it hard to reconcile certain sectoral valuations with the PMI data (including the August prelims).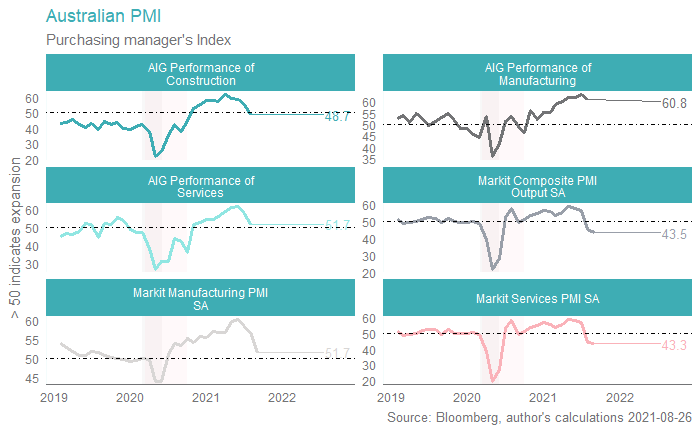 The same points hold for the retail data out today, which fell -3.1% over the past year, on a seasonally adjusted basis.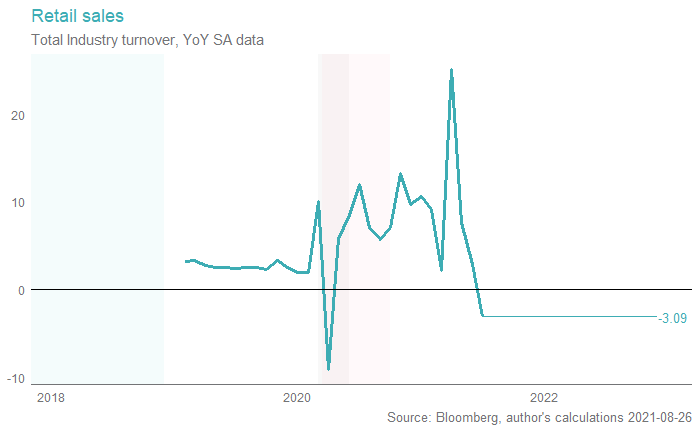 With the month on month data down -2.65%.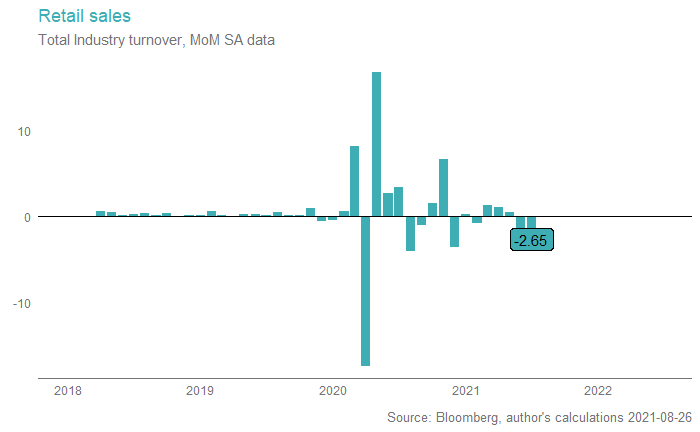 Whilst our thoughts here focus more fully on the consumer discretionary / retail sales (NCK, JBH, HVN, DSK, GUD, BRG, APE) the same considerations extend market wide, where a considerable amount of enthusiasm for shares is difficult to reconcile with the actual economic outlook.
It's quite clear that we will get vax "passports", a situation where you can show your vaccinated status, and you can go and do stuff that the unvaxxed can't, e.g. to go to work (as teachers, aged care workers, and now Qantas employees require) but also more general things like eat in a restaurant, see a movie, get a haircut and the like.
The expectation of vaccine passports is why all the travel, leisure, gaming, and tourism stocks have gone bananas over the past few days, despite the worsening in daily case rates. They are no longer looking at, or caring about, the flow of new cases, but rather the end game of a vaccinated cohort with freedom of movement.
However, the part that's harder to parse, is as follows.
Suppose we get to our desired vax status (e.g. c70% ore more) at which point we open up. However, Delta is so contagious, that we (plausibly) see our case rates moves into the 10's of thousands. Our death rates will be low, but in that scenario it is hard to predict how consumers react.
Our approach, within direct equities, has been to have some COVID beneficiaries, and unsurprisingly, to have a mix of COVID recovery plays, but crucially to ensure that we've got plenty of QGARP (Quality Growth at a Reasonable Price) to help us weather whatever happens.
Important Information: This document has been prepared by Aequitas Investment Partners ABN 92 644 165 266 ("Aequitas", "our", "we"), a Corporate Authorised Representative (no. 1284389) of C2 Financial Services, (Australian Financial Services Licensee no. 502171), and is for distribution within Australia to wholesale clients and financial advisers only.
This document is based on information available at the time of publishing, information which we believe is correct and any opinions, conclusions or forecasts are reasonably held or made as at the time of its compilation, but no warranty is made as to its accuracy, reliability or completeness. To the extent permitted by law, neither Aequitas nor any of its affiliates accept liability to any person for loss or damage arising from the use of the information herein.
Please note that past performance is not a reliable indicator of future performance.
General Advice Warning: This document has been prepared without taking into account your objectives, financial situation or needs, and therefore you should consider its appropriateness, having regard to your objectives, financial situation and needs. Before making any decision about whether to acquire a financial product, you should obtain and read the relevant Product Disclosure Statement (PDS) or Investor Directed Portfolio Service Guide (IDPS Guide) and consider talking to a financial adviser.
Taxation warning: Any taxation considerations are general and based on present taxation laws and may be subject to change. Aequitas is not a registered tax (financial) adviser under the Tax Agent Services Act 2009 and investors should seek tax advice from a registered tax agent or a registered tax (financial) adviser if they intend to rely on this information to satisfy the liabilities or obligations or claim entitlements that arise, or could arise, under a taxation law.
Receive our investment insights