We have a sizeable tilt towards energy in our direct equity portfolios.
As such, we watch the price of nat gas, LNG, and oil closely. Prices have been high, due to a) lack of investment due to ESG concerns constraining capital, b) reserve depletion c) most importantly in the short run, resurgent global demand post the pandemic, and d) macro factors such as lower real rates.
The high prices have caused much consternation from political leaders, who know that oil is a key cost input across pretty much all supply chains, and, is a topical issue for their constituents when they fill up at the bowser, or, when they receive their utility bill.
President Biden has repeatedly called on OPEC+ to increase production, never minding that the US is also one of the largest oil and gas producers, and, one which at present has not materially increased its own production.
Add to that list of not minding, these calls have been delivered at the 2-week long COP climate change summit, in which he's asking those members to do the very thing that the summit says not to do.
Anyway, with OPEC+ rebuffing the request for additional production, over and above the 400Kbpd hike previously agreed, Biden has hinted at drawing on the strategic petroleum reserve (SPR), to impact prices.
Now this is big stuff. China has, to varying degrees of success, attempted to influence key commodity prices (copper, aluminium, coal, iron ore) through such mechanisms, and so it is worth paying attention.
Which makes the below publication from the US EIA (energy information administration) quite interesting. Based on their modelling, the market will move from the current deficit to surplus quite soon.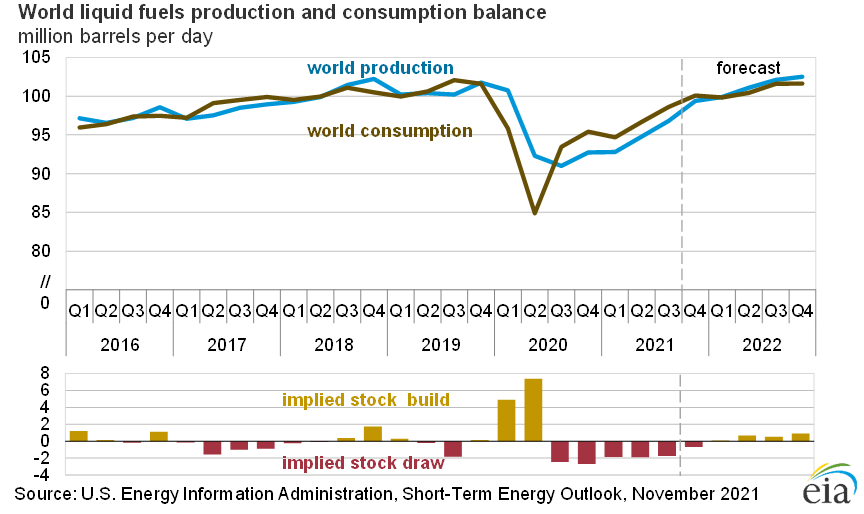 That is not at all the kind of environment in which one would need to browbeat foreign producers, or threaten to deploy the SPR.
Conclusion
It doesn't really matter. Australian listed oil and gas names are pricing $55bbl in perpetuity. They don't need anything like $80-$85bbl to make good returns.
A further point. Net zero, and the transition to renewables will happen. By which point the gas reserves and oil fields of WPL and ORG will have been long since depleted, the wells run dry, and the capital returned to shareholders. As such, the transition away from hydrocarbons isn't actually the big overhang. It's the local investor aversion that's depressing the share prices.
We know this, because international peers have long since re-rated (outperforming Australian names by between 30-50%).
Eventually, investors have to confront the reality of the cashflows.
Important Information: This document has been prepared by Aequitas Investment Partners ABN 92 644 165 266 ("Aequitas", "our", "we"), a Corporate Authorised Representative (no. 1284389) of C2 Financial Services, (Australian Financial Services Licensee no. 502171), and is for distribution within Australia to wholesale clients and financial advisers only.
This document is based on information available at the time of publishing, information which we believe is correct and any opinions, conclusions or forecasts are reasonably held or made as at the time of its compilation, but no warranty is made as to its accuracy, reliability or completeness. To the extent permitted by law, neither Aequitas nor any of its affiliates accept liability to any person for loss or damage arising from the use of the information herein.
Please note that past performance is not a reliable indicator of future performance.
General Advice Warning: This document has been prepared without taking into account your objectives, financial situation or needs, and therefore you should consider its appropriateness, having regard to your objectives, financial situation and needs. Before making any decision about whether to acquire a financial product, you should obtain and read the relevant Product Disclosure Statement (PDS) or Investor Directed Portfolio Service Guide (IDPS Guide) and consider talking to a financial adviser.
Taxation warning: Any taxation considerations are general and based on present taxation laws and may be subject to change. Aequitas is not a registered tax (financial) adviser under the Tax Agent Services Act 2009 and investors should seek tax advice from a registered tax agent or a registered tax (financial) adviser if they intend to rely on this information to satisfy the liabilities or obligations or claim entitlements that arise, or could arise, under a taxation law.
Receive our investment insights