Technology One do enterprise resource planning (ERP).
That's likely one of the most nebulous sounding descriptions you've ever heard, but the easier way to think of it is that every business does something, and having an IT system that helps it do that thing is useful.
Start with something familiar.
An advisor will want to use advice software to look across client' financial records in order to manage the needs of the customer. That might take them across different wealth management platforms, registries, agencies, and the technological software and systems of multiple different companies and entities.
TNE themselves have a little video on their website, showing a home care nurse visiting patients, and being able to use an inventory management system, linked to customer accounts, in order to purchase a walker for an aged care patient, in a seamless and intuitive manner, with all of the associated evidentiary documentation tabled (e.g. clinical need).
Because businesses are complex, and many IT needs are solved in an evolutionary/iterative type way over many years, expertise in industry verticals (where needs can be common/overlap) are developed, which is, through long experience, what TNE has done.
Anyway, that's a lot of ink just to make it a fraction clearer what TNE do. Because you'll be none the wiser otherwise, after reading through their slide decks.
They've been at it a long while, and grown quite impressively.
It is a capital light business, as such returns are very high.
The problem is, everyone can see the good bits, leading to extremely high valuations (11x sales, yield of ~1.3%)…
…as the market has accordingly extrapolated out future earnings, at an accelerating rate.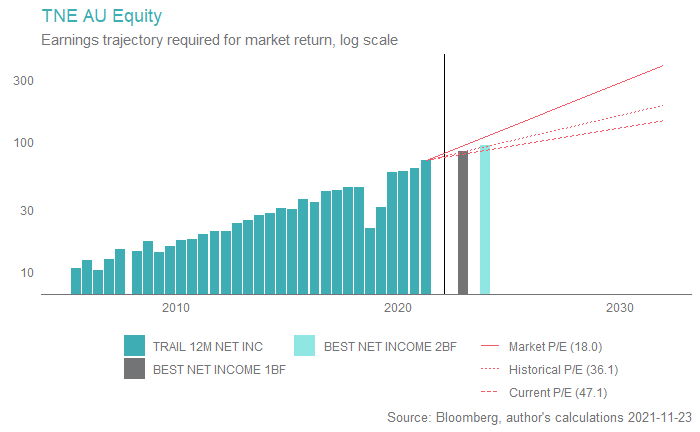 If you think in 10 years time TNE will be close to maturity, and hence you can value it at a market like multiple (say ~18-20x earnings), well then, it has got to see a fairly marked acceleration in growth.
If you think it will be valued at 36-47x, in 10 years, than the earnings trajectory is probably achievable, although it would still require no hiccups.
That is, simply unlikely to our mind.
At 18-20x, it would imply an earnings trajectory that is faster than anything they've done before, and things have already been pretty amazing in terms of historical growth.
Not one for us.
Important Information: This document has been prepared by Aequitas Investment Partners ABN 92 644 165 266 ("Aequitas", "our", "we"), a Corporate Authorised Representative (no. 1284389) of C2 Financial Services, (Australian Financial Services Licensee no. 502171), and is for distribution within Australia to wholesale clients and financial advisers only.
This document is based on information available at the time of publishing, information which we believe is correct and any opinions, conclusions or forecasts are reasonably held or made as at the time of its compilation, but no warranty is made as to its accuracy, reliability or completeness. To the extent permitted by law, neither Aequitas nor any of its affiliates accept liability to any person for loss or damage arising from the use of the information herein.
Please note that past performance is not a reliable indicator of future performance.
General Advice Warning: This document has been prepared without taking into account your objectives, financial situation or needs, and therefore you should consider its appropriateness, having regard to your objectives, financial situation and needs. Before making any decision about whether to acquire a financial product, you should obtain and read the relevant Product Disclosure Statement (PDS) or Investor Directed Portfolio Service Guide (IDPS Guide) and consider talking to a financial adviser.
Taxation warning: Any taxation considerations are general and based on present taxation laws and may be subject to change. Aequitas is not a registered tax (financial) adviser under the Tax Agent Services Act 2009 and investors should seek tax advice from a registered tax agent or a registered tax (financial) adviser if they intend to rely on this information to satisfy the liabilities or obligations or claim entitlements that arise, or could arise, under a taxation law.
Receive our investment insights