It is possible to separate the 10 year nominal treasury yield into its components.
There's the real interest rate (average expected future short rates, essentially where monetary policy is expected to go), plus expected inflation, plus a term premium, which is a catch all for risks not associated with the path of policy (e.g. it will encompass supply and demand for treasuries, how the market values the "insurance" like aspect of treasuries, and so forth).
Once we remove those risk premia and inflation expectations from the 10 year yield, we can get at this "real risk neutral" rate, and further, we can note how it varies procyclical with the output gap (the difference between where the economy is producing, and where it could be producing, given the available stock of labour, capital, and technology).
In turn, we can pop that into a little model to say if the economy has recovered, from COVID, such that the output gap is zero (back to normal) where should the interest rate be?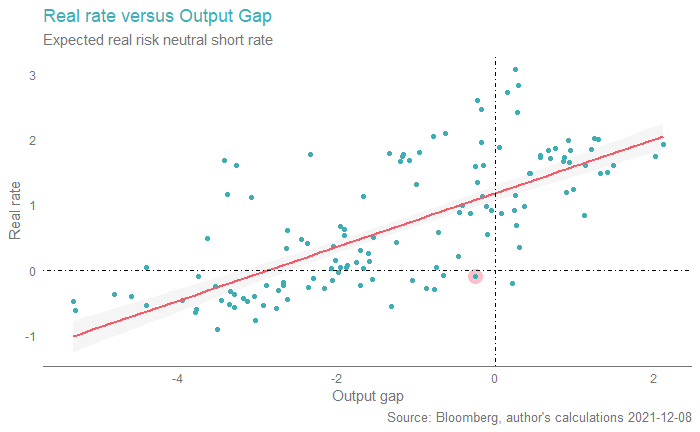 And that number is around 1.1%. Currently (the pink dots) the rate is deeply depressed below where we think it should be.
Well, maybe we should temper that, it is ~1% below where we think it should be.
Add in inflation at target, and you can get a 3% treasury yield.
At the very least, coming back to our current 10 year yield, which is around 1.4%, you can see why we think it should move towards 2.25-2.5%, once we are done with Omicron (or once it is done with us).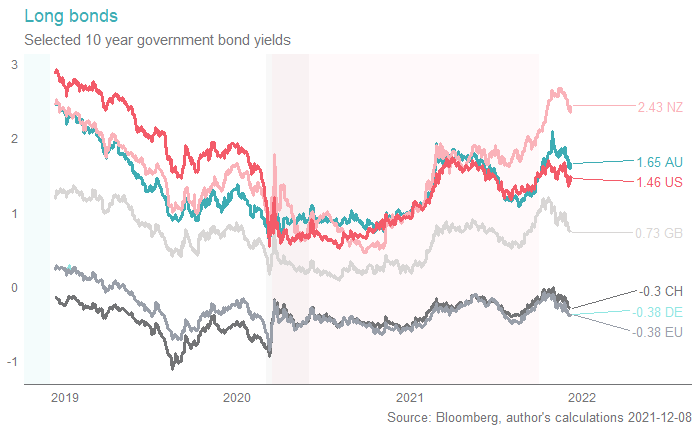 Now it is hardly the sort of backup in rates that tanks the market, but it is enough, we think, to make present valuations for secular growth narratives look overcooked.
By that we mean pizza businesses that trade on 50x, the same multiple as plasma fractionators. That sort of thing.
Important Information: This document has been prepared by Aequitas Investment Partners ABN 92 644 165 266 ("Aequitas", "our", "we"), a Corporate Authorised Representative (no. 1284389) of C2 Financial Services, (Australian Financial Services Licensee no. 502171), and is for distribution within Australia to wholesale clients and financial advisers only.
This document is based on information available at the time of publishing, information which we believe is correct and any opinions, conclusions or forecasts are reasonably held or made as at the time of its compilation, but no warranty is made as to its accuracy, reliability or completeness. To the extent permitted by law, neither Aequitas nor any of its affiliates accept liability to any person for loss or damage arising from the use of the information herein.
Please note that past performance is not a reliable indicator of future performance.
General Advice Warning: This document has been prepared without taking into account your objectives, financial situation or needs, and therefore you should consider its appropriateness, having regard to your objectives, financial situation and needs. Before making any decision about whether to acquire a financial product, you should obtain and read the relevant Product Disclosure Statement (PDS) or Investor Directed Portfolio Service Guide (IDPS Guide) and consider talking to a financial adviser.
Taxation warning: Any taxation considerations are general and based on present taxation laws and may be subject to change. Aequitas is not a registered tax (financial) adviser under the Tax Agent Services Act 2009 and investors should seek tax advice from a registered tax agent or a registered tax (financial) adviser if they intend to rely on this information to satisfy the liabilities or obligations or claim entitlements that arise, or could arise, under a taxation law.
Receive our investment insights