What's the good news?
South Africa
We've all heard about the extreme transmissibility. It's true. The R0 is markedly higher than it was for delta (reproductive rate of the virus).
The lower severity sure seems to be true too. South Africa was where we (they) first noticed the impacts in the data, and therefore gives us the longer/richest experiential data set to work with, thus far, and it seems likely deaths and hospitalisation rates are much lower, than was the case for Delta.
That's great!
United Kingdom
However, views on shapes of the earth seem to differ. The study referenced below was from the UK, and made many feel very nervous.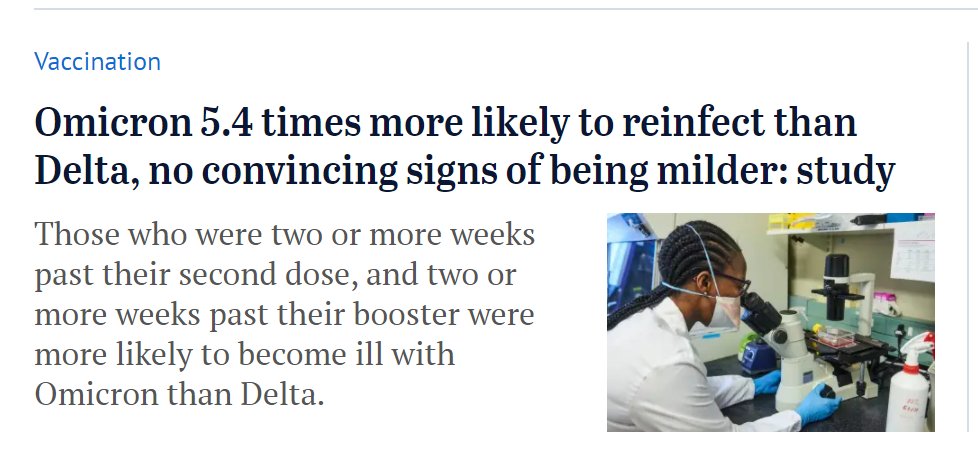 However, the UK is now almost a month into this 4th wave, and isn't seeing a spike in deaths either. Denmark (another country experiencing an outbreak) has similar ICU and death profiles.
Again, that's great!
New South Wales
It is likely that our cases are now mostly Omicron too (estimates below are from Andrew Lilley, a research scientists at Novi Economics.
However our CHR (case hospitalisation rate is falling over the period in which Omicron has become the dominant strain).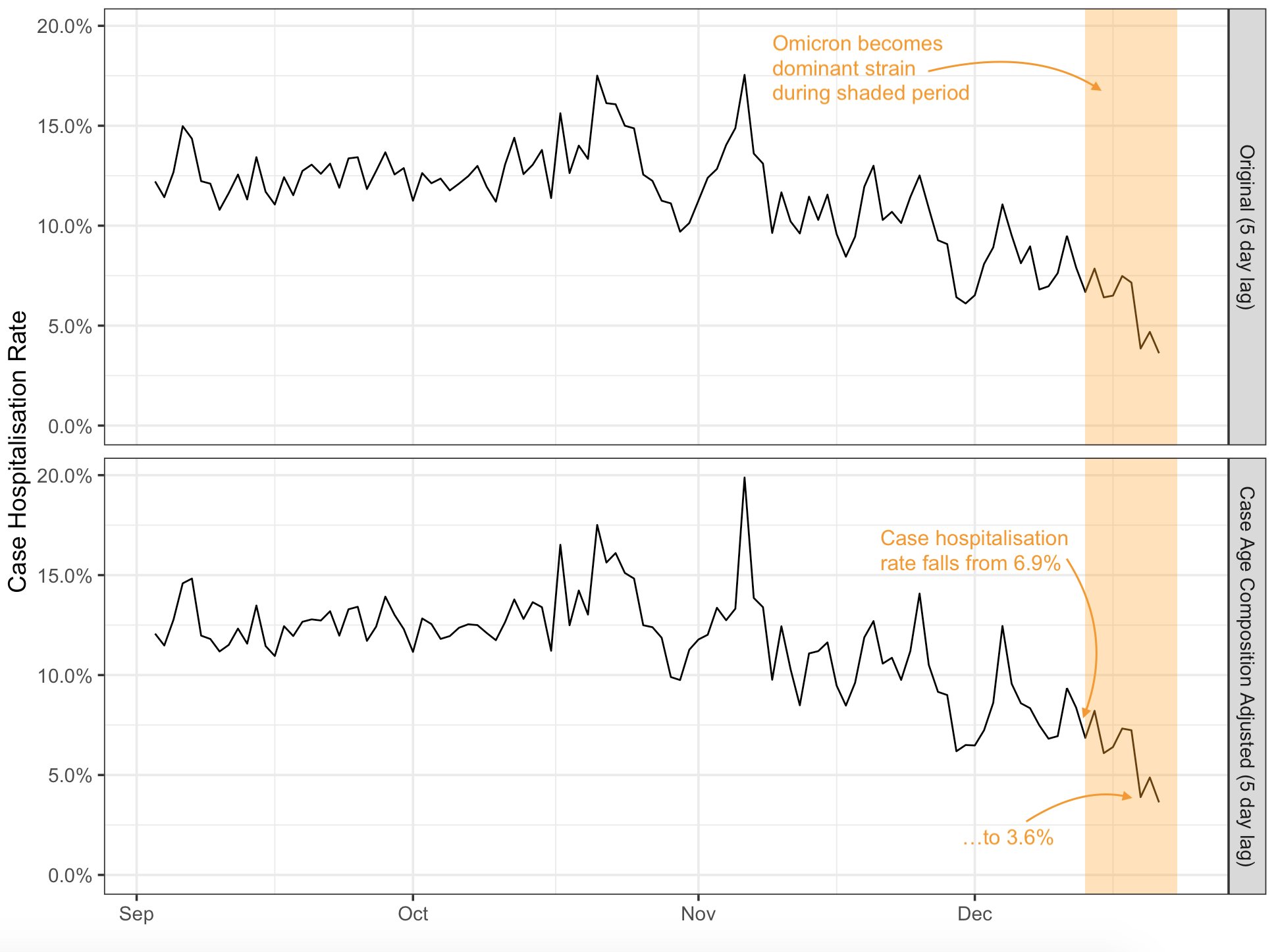 That's good!
Our thoughts and positioning
It looks like everyone on earth, eventually, one way or another, between now and eventual death, is going to catch this thing (in whatever iteration we reach by then, having gone through Alpha, Delta, Omicron, and all the letters in between whose names I can't recall), and if we can get a global super-spreader that's very benign, it might actually stop the virus in it's tracks, as we all acquire immunity.
A few weeks back, the Pfizer CEO was out with a very positive message, suggesting that existing vaccines could be tweaked quite easily, and put into mass production. The Moderna CEO had almost the exact opposite message, suggesting that as an escape variant it could take quite a bit of time before vaccines could be sufficiently tweaked, and in the interim the severity could wreck havoc. Markets, being unsure of which view to weight, chose "risk-off" as the precautionary stance.
Now, the Moderna CEO (out overnight) is suggesting that the booster shots could result in a super-immunity, and was quite bullish about our prospects for handling COVID.
That's great!
What does it mean for markets, and portfolio positioning.
Well, it means we probably don't need to shift further underweight. We are already 600bps UW equities (largely on valuation grounds, and wobbly China grounds), and so if Omicron turns worse, from here, well, we think the multi-asset / diversified investment portfolios should go okay. We'd add back risk (buying equities, selling treasuries, Alts, and deploying cash) if the sell-off gathered pace.
And if it doesn't, and Omicron goes the same way as all the other variants, well in that case we are probably back to our valuation concerns, and wouldn't change much either.
As such, we think our positioning is current pretty good.
Within equities, we have an overweight to Energy, and an underweight to most other commodities. The overweight energy position will likely suffer, as lockdowns mean no travel, and oil is overwhelmingly used in transport.
To that end, we'd note that lockdowns do seem less likely, as a global policy choice, 2 years into the crisis. The tone, from legislators and politicians is definitely trending towards "let's live with the virus, and just get everyone who will/wants/can-be vaccinated". Whether you feel that is the right thing to do, the morally correct thing to do, is another thing entirely, and our point is simply to note what seems to be the political stance, and therefore what seems likely.
However, for what lockdowns do occur, it is unlikely that other commodities rally, in that environment, and should provide a good portfolio offset regardless.
Important Information: This document has been prepared by Aequitas Investment Partners ABN 92 644 165 266 ("Aequitas", "our", "we"), a Corporate Authorised Representative (no. 1284389) of C2 Financial Services, (Australian Financial Services Licensee no. 502171), and is for distribution within Australia to wholesale clients and financial advisers only.
This document is based on information available at the time of publishing, information which we believe is correct and any opinions, conclusions or forecasts are reasonably held or made as at the time of its compilation, but no warranty is made as to its accuracy, reliability or completeness. To the extent permitted by law, neither Aequitas nor any of its affiliates accept liability to any person for loss or damage arising from the use of the information herein.
Please note that past performance is not a reliable indicator of future performance.
General Advice Warning: This document has been prepared without taking into account your objectives, financial situation or needs, and therefore you should consider its appropriateness, having regard to your objectives, financial situation and needs. Before making any decision about whether to acquire a financial product, you should obtain and read the relevant Product Disclosure Statement (PDS) or Investor Directed Portfolio Service Guide (IDPS Guide) and consider talking to a financial adviser.
Taxation warning: Any taxation considerations are general and based on present taxation laws and may be subject to change. Aequitas is not a registered tax (financial) adviser under the Tax Agent Services Act 2009 and investors should seek tax advice from a registered tax agent or a registered tax (financial) adviser if they intend to rely on this information to satisfy the liabilities or obligations or claim entitlements that arise, or could arise, under a taxation law.
Receive our investment insights