Well, the recent result and investor day have turned me around on TGR (Tassal group, the salmon and prawn guys).
The story always looked good, with sales growing at a great clip.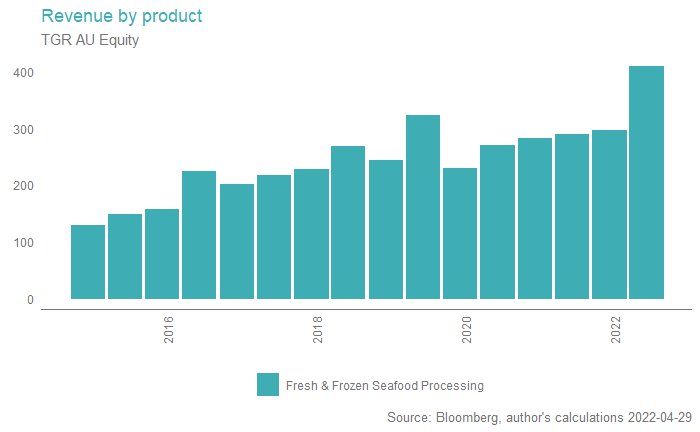 Same with earnings…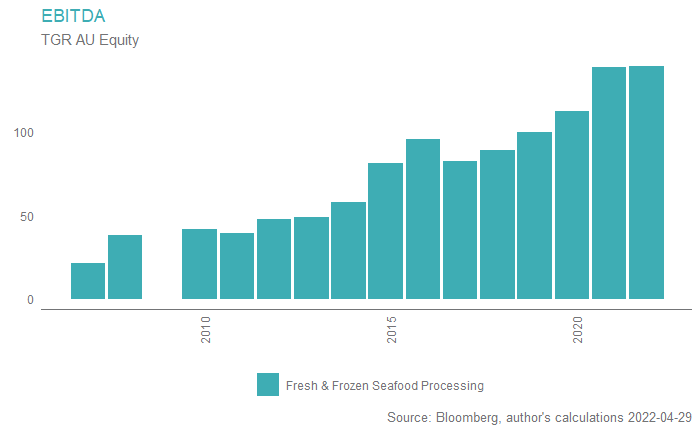 But you'd (continually, as was the case with us) balk at the cashflows.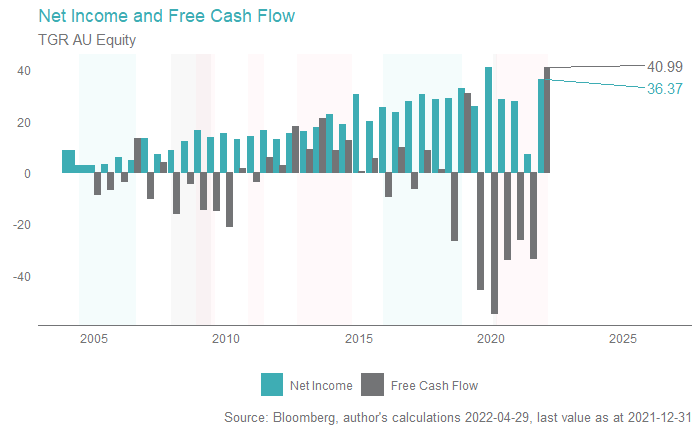 Salmon farms are capital intensive, and the harvest cycle is long relative to other animal proteins. Chickens can be turned around in months, salmon take years to go from smolt (young) to salmon (large, adult).
Hence we come to the current period, where management, (in the recent results commentary) and again at the investor day, earlier this month, repeatedly suggest that salmon production has now reached a sufficient, sustainable scale…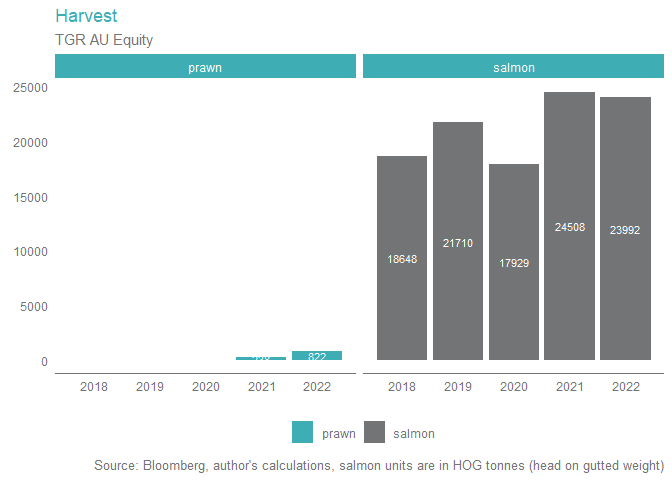 …above is the harvest, and below is the biomass.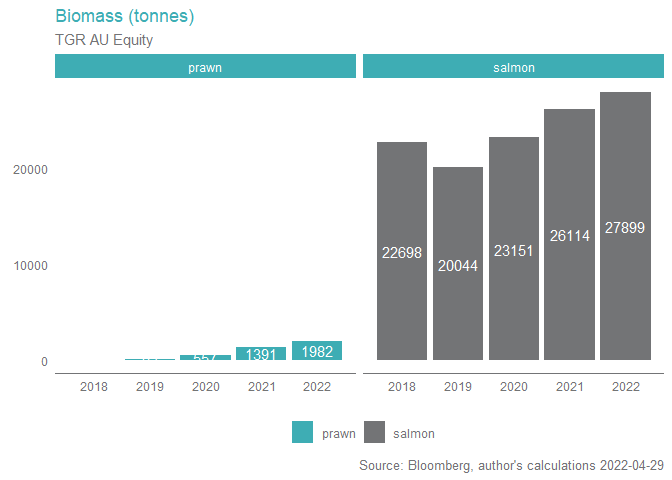 And from that commentary, that capex, the bane of the business for the past half a decade, can now moderate.
This seems plausible, with capex visibly declining, when we look across the financials, and importantly is guided to stay lower, and OCF higher, as a result of the prior expansion/investment.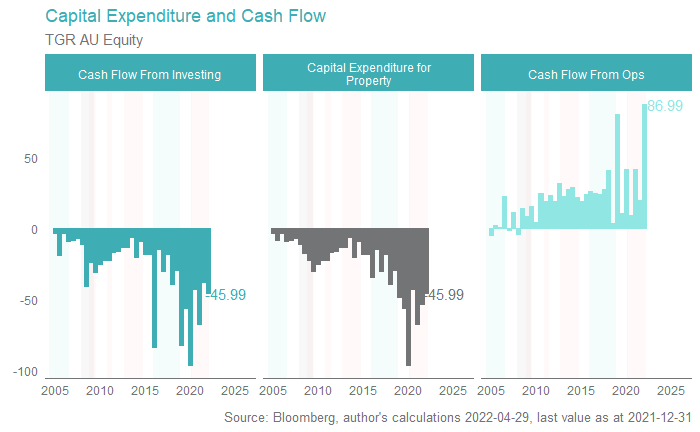 Management refer to this as a step change in the cash generative nature of the business, and to our mind, means the market can stop placing such a discount on an otherwise reasonable premise (consumer preference shift [eating healthier salmon in developed countries, and less red meat], income shift (eating less vegetable protein, and more animal protein in developing countries as incomes grow) and lower C02 and water consumption intensity, compared to chicken, beef, which is environmentally friendly].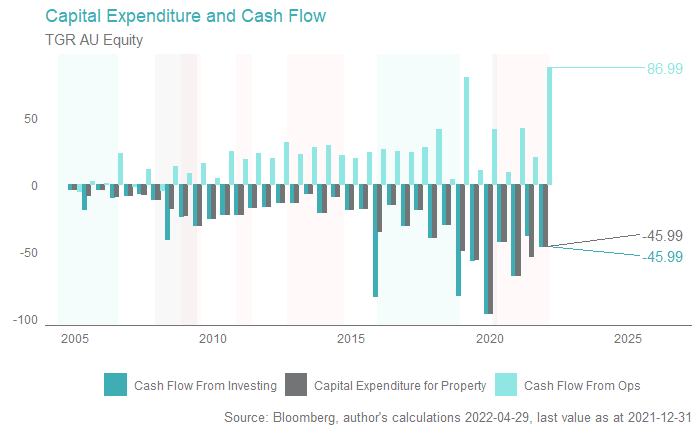 It's also pretty essential given that gearing is quite high, and where interest rates are repricing to, e.g. higher cost of debt.
These measures (which including the operating leases) will move towards more sustainable, through cycle gearing metrics, assuming all goes well, meaning TGR are hitting their stride more or less in the nick of time.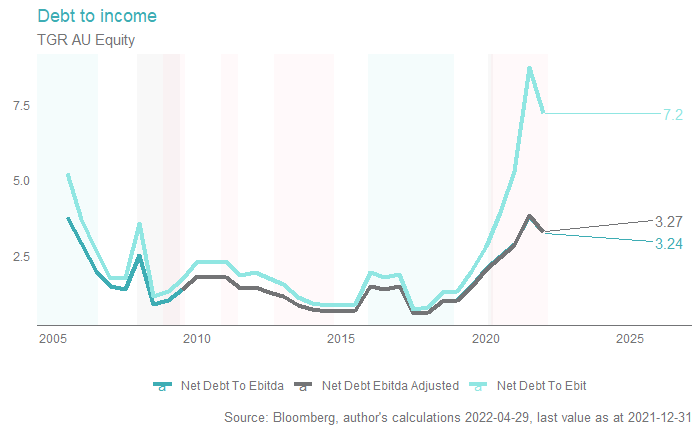 Salmon prices are likely unsustainably high, affected by the same sorts of common macro factors driving all commodities, including the UKR-RUS conflict.
But the share price does not reflect these very high prices (understandably so, given domestic sales to powerful customers).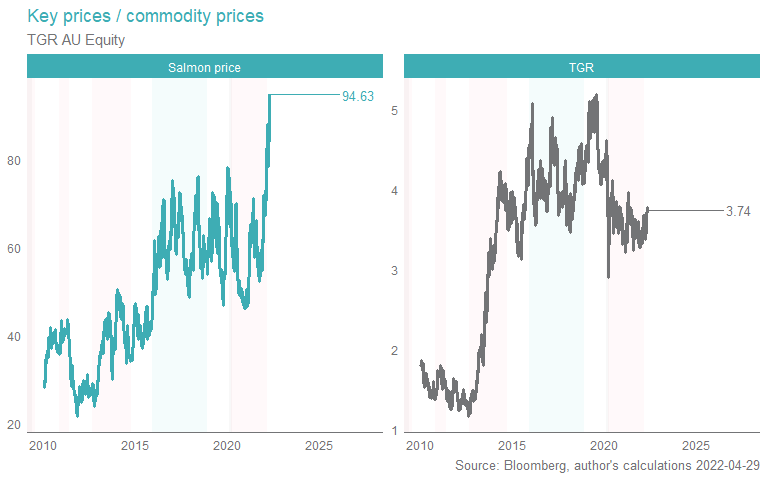 Compared to other names in the space, it screens favourably, almost certainly given the historical aversion to money "poured straight into the sea".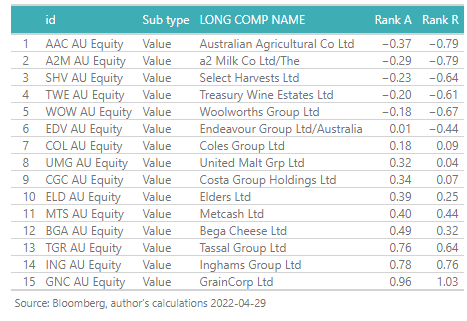 The embedded earnings expectations seem fairly low, i.e. achievable, to our mind, particularly as a) prawns grow as a share of the business (with quicker harvesting cycles, better returns, less capital intensity) and b) those presently high prices.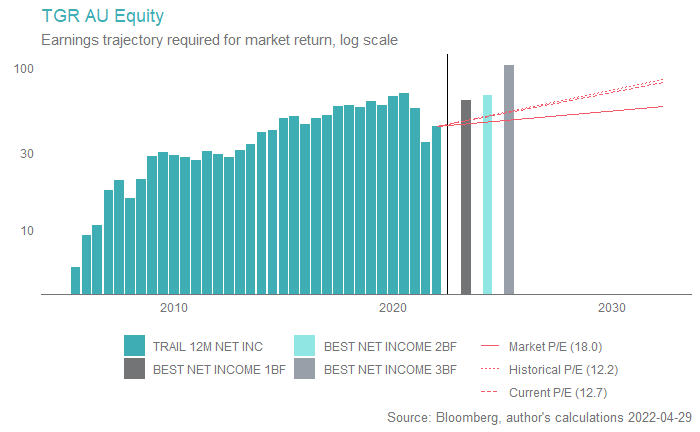 Part of the worry has to concern trade with global markets, in a world of decentralisation and trade and tariff wars.
And of juggling the mix shift between international prices, domestic prices, and segments of domestic pricing (e.g. in home, out of home), all of which can have significant bearing on profits.
But we think, at current valuations, the share price seems to provide some comfort to these risks.
Important Information: This document has been prepared by Aequitas Investment Partners ABN 92 644 165 266 ("Aequitas", "our", "we"), a Corporate Authorised Representative (no. 1284389) of C2 Financial Services, (Australian Financial Services Licensee no. 502171), and is for distribution within Australia to wholesale clients and financial advisers only.
This document is based on information available at the time of publishing, information which we believe is correct and any opinions, conclusions or forecasts are reasonably held or made as at the time of its compilation, but no warranty is made as to its accuracy, reliability or completeness. To the extent permitted by law, neither Aequitas nor any of its affiliates accept liability to any person for loss or damage arising from the use of the information herein.
Please note that past performance is not a reliable indicator of future performance.
General Advice Warning: This document has been prepared without taking into account your objectives, financial situation or needs, and therefore you should consider its appropriateness, having regard to your objectives, financial situation and needs. Before making any decision about whether to acquire a financial product, you should obtain and read the relevant Product Disclosure Statement (PDS) or Investor Directed Portfolio Service Guide (IDPS Guide) and consider talking to a financial adviser.
Taxation warning: Any taxation considerations are general and based on present taxation laws and may be subject to change. Aequitas is not a registered tax (financial) adviser under the Tax Agent Services Act 2009 and investors should seek tax advice from a registered tax agent or a registered tax (financial) adviser if they intend to rely on this information to satisfy the liabilities or obligations or claim entitlements that arise, or could arise, under a taxation law.
Receive our investment insights