Headlines
Thinking out aloud about Southern Cross Austereo.
Detail
SXL is a business that appears to have been hit very hard by COVID. Ordinarily, free cash flow generation is quite good, even as profits have been hard to come by.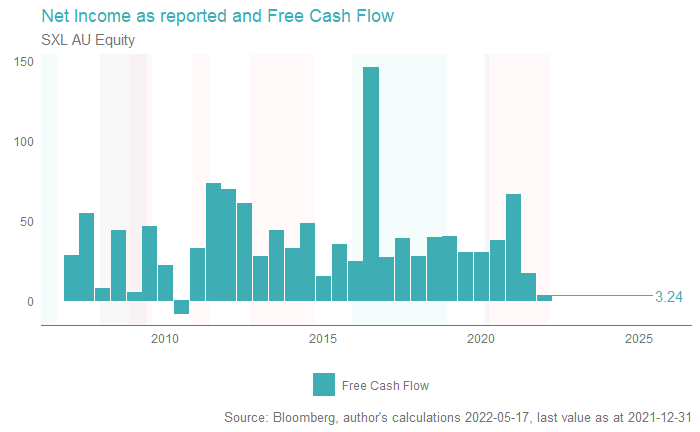 However FY20-21 had a significant working cap release, and other material one-off items like Job Keeper payments, and favourable tax outcomes, that bolstered FCF well above average levels. Fast forwarding to now, they are in the process of mean reverting/unwinding, and coupled with more recent COVID lockdowns, are deeply depressed at the most recent result.
Should history prove a good guide, and "things" revert to normal (e.g. a more normal advertising expenditure, the absence of above items) then earnings and cashflows would improve, and thus SXL would appear quite cheap at current levels.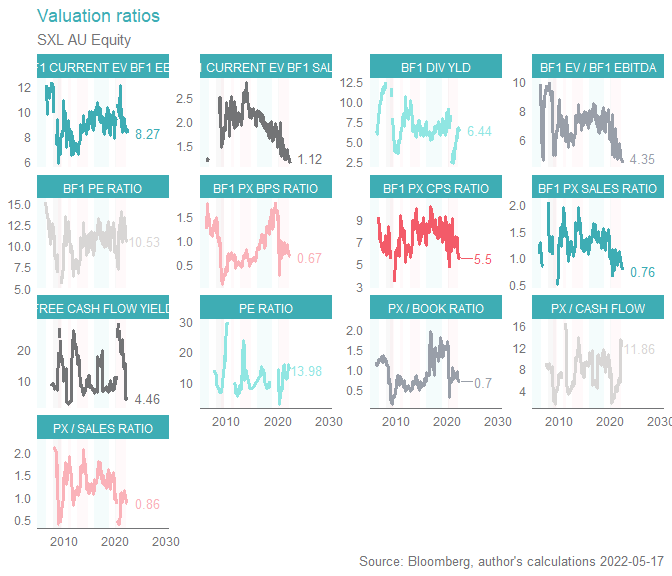 Note the balance sheet isn't as strong as SXL make it out to be. Management like to present debt on a pre-AASB16 basis, but those leases are not small, and restated gearing for such off-balance-sheet-liabilities makes for a much higher number, as shown below.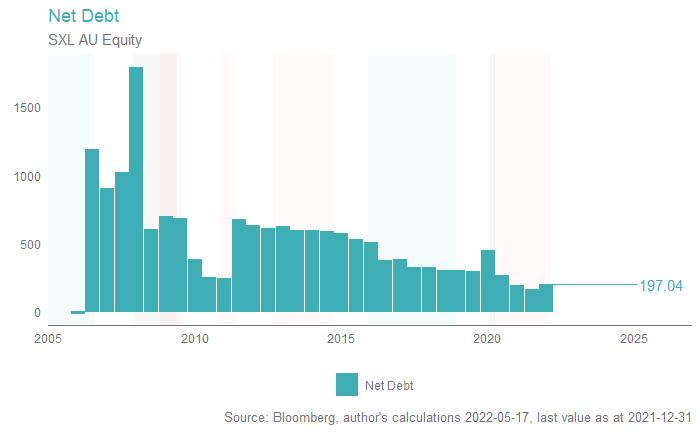 The earnings are cyclical, and volatile even over and above that cyclicality. As such 2x ND-EBITDA can feel a little high given the long running erosion of profit.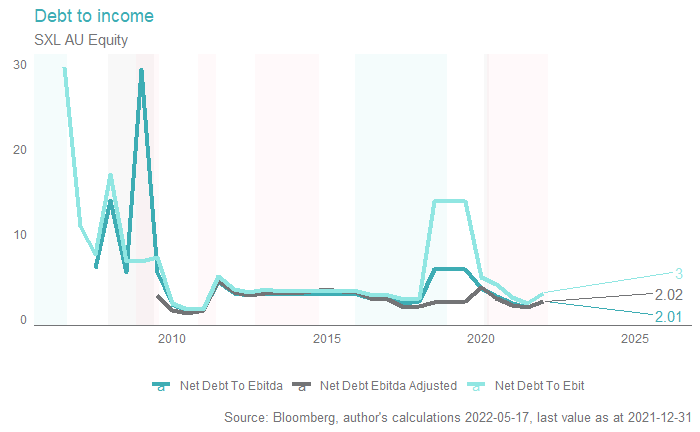 Leverage is deadly to a value trade, especially one with a few hairs on it. And the track record hasn't been great, which of course is why they are in the present predicament.
Still, if ad volumes revert, as the pandemic fades, and cashflows revert, inline with historical cashflow generative metrics, then the gearing metrics improve, the buyback continues, and you make the yield + capital return + whatever long run earnings growth you think you can get.
That growth profile, for SXL, is likely going to be centred on digital audio (think of your radio, which delivers you news and music and ads, versus listening to a podcast through an app, or listening to anything at all [music, news, ads] as long as it is coming through an app on your phone or ipad or watch or computer or smart TV).
It is early days, and the revenue contribution is small, but the industry growth profile of digital advertising is strong, and it could become quite meaningful to SXL, as long as it displays relevance and consumer desirability (all the usual things). The trick will be to keep the old media monetisation streams alive, at healthy levels, whilst the new media grows.
Important Information: This document has been prepared by Aequitas Investment Partners ABN 92 644 165 266 ("Aequitas", "our", "we"), a Corporate Authorised Representative (no. 1284389) of C2 Financial Services, (Australian Financial Services Licensee no. 502171), and is for distribution within Australia to wholesale clients and financial advisers only.
This document is based on information available at the time of publishing, information which we believe is correct and any opinions, conclusions or forecasts are reasonably held or made as at the time of its compilation, but no warranty is made as to its accuracy, reliability or completeness. To the extent permitted by law, neither Aequitas nor any of its affiliates accept liability to any person for loss or damage arising from the use of the information herein.
Please note that past performance is not a reliable indicator of future performance.
General Advice Warning: This document has been prepared without taking into account your objectives, financial situation or needs, and therefore you should consider its appropriateness, having regard to your objectives, financial situation and needs. Before making any decision about whether to acquire a financial product, you should obtain and read the relevant Product Disclosure Statement (PDS) or Investor Directed Portfolio Service Guide (IDPS Guide) and consider talking to a financial adviser.
Taxation warning: Any taxation considerations are general and based on present taxation laws and may be subject to change. Aequitas is not a registered tax (financial) adviser under the Tax Agent Services Act 2009 and investors should seek tax advice from a registered tax agent or a registered tax (financial) adviser if they intend to rely on this information to satisfy the liabilities or obligations or claim entitlements that arise, or could arise, under a taxation law.
Receive our investment insights